Hungarians are the most pessimistic about their financial situation and the fate of their country's economy, according to the first-ever Hungarian data published by the GWI Global Consumer Attitudes Survey.
Hungarians are the most pessimistic about their financial situation and the fate of their country's economy, according to the first-ever Hungarian data published by the GWI Global Consumer Attitudes Survey. The survey – conducted for the first time in Hungary this year by the research firm thanks to Publicis Groupe Hungary – shows that 44% of Hungarians expect their financial situation to worsen in the next six months, and 72% of respondents believe the country's economic situation will also deteriorate. This is somewhat offset by the fact that most Generation Z, aged 16-26, are more positive about the future, with 34% optimistic about their economic situation. They are also the most intensive e-commerce users, are far ahead in using social media and streaming platforms, and are more concerned about sustainability and environmental awareness than their elders.
Hungary on the GWI map

GWI is one of the world's largest consumer research companies, profiling 2.7 billion consumers in 52 countries since 2009. The exciting thing about this year's study is that, for the first time, data on Hungarian consumers has been included in the analysis. The Hungarian survey was conducted in the first quarter of 2023, interviewing 6.3 million Hungarian internet users aged between 16 and 64. "Joining the research allows Hungary to be compared with 51 other countries in important areas such as internet and media consumption habits, sustainability, trade, technology, and economic and financial perceptions. The survey is a valuable tool to help us develop and strengthen the digital marketing and media industry and equip our clients with the right knowledge," said Rita Horváth, Chief Media Officer of Publicis Groupe Hungary.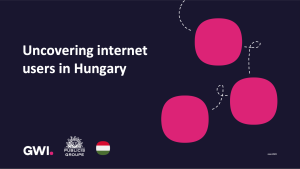 GWI-Publicis_Uncovering internet users in Hungary
Financial outlook: Hungarian is the most pessimistic nation
One of the most exciting topics of the research – perhaps more than any other – is the cost of living and consumer reactions to inflation. According to the survey, we have the worst outlook for the future in the world, with 44% of Hungarians expecting their financial situation to get worse in the next six months and 72% hoping the country's economic situation to get worse. This is in line with Hungary's leading inflation rate in Europe. This is counterbalanced by the fact that the Hungarian Generation Z, aged 16-26, is still highly optimistic about their finances, with 34% of them feeling positive, which may be partly due to age specificity. Financial awareness among Hungarians is also among the lowest in the EU. We are less likely to use our mobile phones to track and plan our finances and spending, with 33% of us where our neighbors are stronger (Czechs: 50%, Poles: 39%).
Environmental awareness remains a luxury, not a default assumption
Broadly in line with European trends, the Hungarian data shows that the inflationary environment is eating away at environmentally conscious consumers' expectations of sustainability first. However, even so, 48% of Hungarians expect brands to be environmentally friendly (EU average: 43%). This is also the view of women, baby boomers, and higher-income earners. "In Hungary, sustainability was one of the hottest topics in retail until COVID, but the epidemic pushed it into the background, and health took over for a year or two. The topic is coming back to the fore, but convincing price-sensitive consumers of the need for sustainability alone is difficult. Generation Z is also more sensitive to this issue. However, income barriers still hold it back in many cases," adds Norbert Madar, Senior Consultant and Partner at GKID & TrendSight. There is a marked increase in price awareness compared to the European average, with product comparison sites playing a more significant role in Hungary (26% vs. EU: 20%), especially among older generations.
We are Facebook country
There is a duality in that the research shows that Hungarians have a high interest in technology (compared to other attractions such as history, politics, or theatre). Yet, traditional media consumption remains high in Hungary compared to the region, compared to online or streaming channels, which are considered more modern. TV, for example, is extreme (72%), even among young people (59%). Hungarians are more likely than the European average to use social media channels to connect with friends and family (93% vs. EU: 65%). Facebook is the leading platform in Hungary, with 74% using it daily, much higher than the European average (45%). Similarly, using Facebook groups is much more intensive in Hungary (55% vs. EU: 35%). "Facebook's strong position is also because, during the pandemic years, it became a way for many people to keep in touch, with the 50+ age group becoming more active. It seems that the main purpose of the use is to keep in touch, for which other social media sites are less suitable," explained Ágnes Neulinger, consumer behavior expert and researcher at the University of Pécs. The other two most frequently used channels in terms of daily usage in Hungary are Instagram (33%) and TikTok (24%), which is below the regional average for the former (43%) and similar for the latter (25%).
Young people are on the rise because of SHEIN and Amazon
The research shows that eMAG, the country's biggest e-commerce retailer, is the market leader in Hungary, with 55% of Hungarians using it in the past month. Jófogás is the 2nd most popular e-commerce site in Hungary – used by 38 percent of internet users – especially members of Generation X. But among younger generations, SHEIN – criticized by many for its commercial practices – and Amazon are extremely popular. SHEIN is particularly popular, with 12 percent of Hungarians visiting or using it, compared to 27 percent of Generation Z. Interestingly, Hungarians prefer Amazon to Czechs (11% vs. 8%), especially young and high-income consumers. The same proportion is also proper for eBay, almost twice as prevalent in Hungary as in the Czech Republic (14% vs. 7%), especially among men and university graduates. Wish also joins the ranks, with Hungarians preferring it more than their regional neighbors (14% vs. 7%).
At home, clothing is the most popular online shopping category, with 17% of Hungarians buying clothes online in the past month. Younger generations prefer to do so, but Hungary still lags behind its neighbors and Europe. Technology as an online shopping category is also favored by Hungarian consumers, with 5% buying a smartphone online, more than double the Polish figure (2%). Hungarians were more likely than the European average to buy vitamins/nutritional supplements online (11% vs. 8%).
About GWI
GWI was founded by Tom Smith in 2009 in the UK. The company provides publishers, media agencies, and marketing professionals worldwide with insights into the buying habits of their target audiences.
GWI profiles consumers in 52 countries with a panel of 2.7 billion connected consumers available through a subscription platform. The national research of internet users aged 16-64 was conducted through an online survey of 6.3 million people in Q1 2023. The questions were asked by GWI using a uniform methodology in each country on a sample representative of the Internet-using population.